Deleted member 275
Kraken
Joined

Sep 8, 2018
Posts

15,272
Reputation

36,377
Looksmaxing has bumped me from a 4/10 PSL to a 5.5/10 PSL, aka slightly above average. But I am still a depressed, kissless virgin at 23yo that is used to being the social outcast, the loser, the unattractive ogre. Looksmaxing has definitely been worth it as I can easily get into new social circles now, get invited to parties and get initial interest from girls. But not having the same 'vibe, energy' as people my age quickly starts to show itself into weird/non-NT behavior. Often leaving me as the guy that gets to tag along but isn't really part of the group kinda thing.
Probably the biggest thing stopping me from ascending is a total lack of inner motivation to even care about girls or social status anymore. I am so used to being the social outcast and the virgin that is hated by girls, that my inner mind seems to have accepted this situation. I am dead from the inside, hopeless. Whilst 5 years ago I would've bursted from joy when being given attention by an attractive girl or being invited to parties by normies; at this point I don't even care anymore.
All my mind wants to do is to go back to vidyacoping where I sorta felt at home. This is basically me: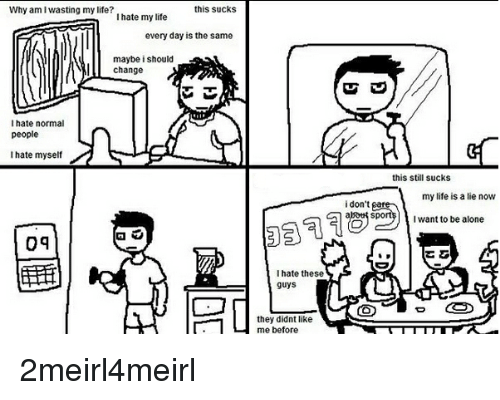 I have been pushing through with this for months now, taking on new normie hobbies and hanging out with social circles, but it is tiresome and feels unrewarding.
How to NT-max?